Navigating the Path to Dental Practice Acquisition: Understanding the Letter of Intent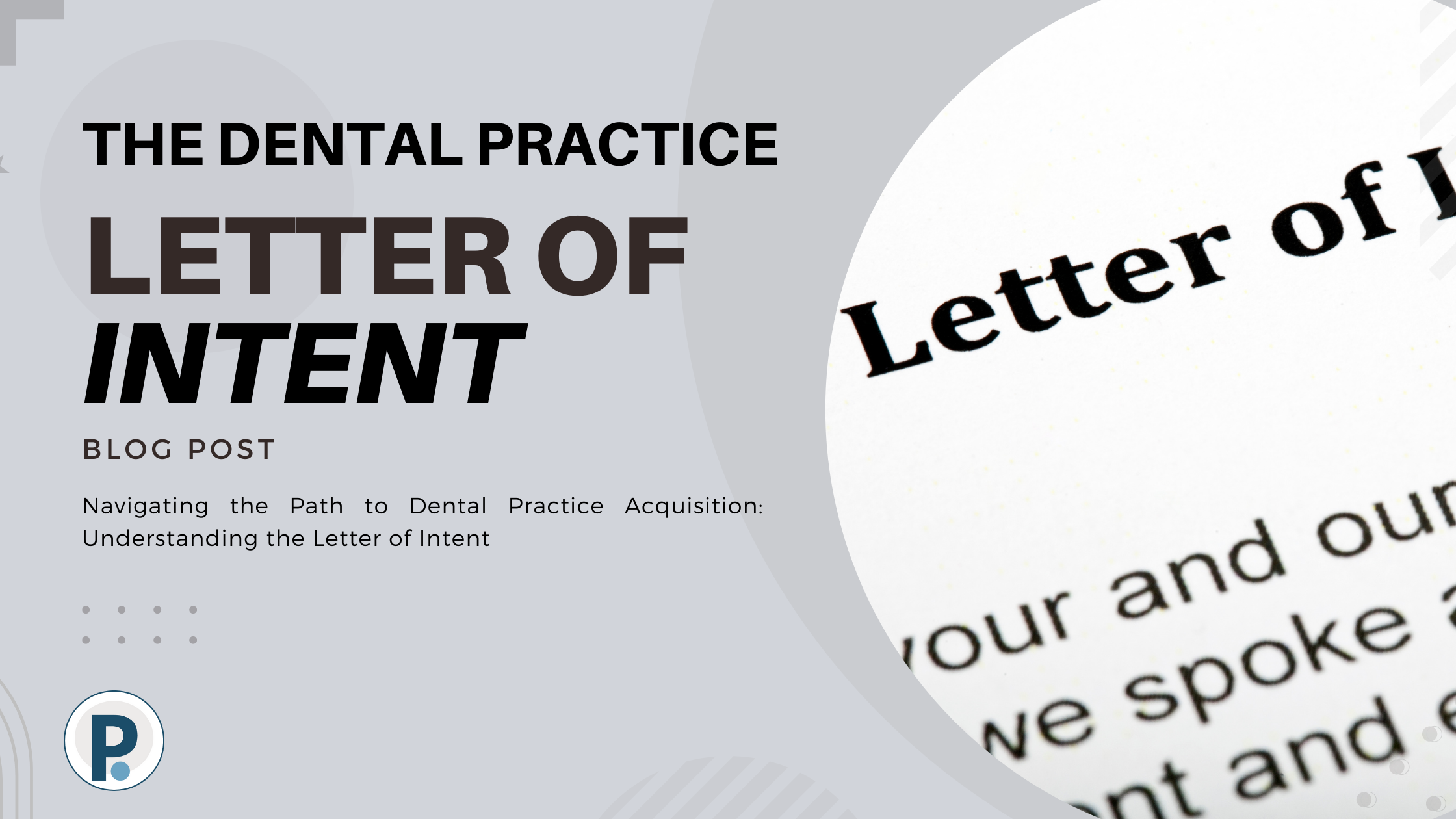 In the world of dental practice transactions, the Letter of Intent (LOI) holds a prominent place. It serves as the foundation upon which you build your acquisition journey. In this post, we are going to delve into the importance of a Letter of Intent, what it encompasses, and why it's a vital part of buying a dental practice. Whether you're a seasoned buyer or venturing into your first acquisition, understanding the LOI can make your transaction journey significantly smoother.
What is a Letter of Intent (LOI)?
A Letter of Intent is a preliminary agreement that lays out the primary terms and conditions of a proposed transaction. Although not legally binding in its entirety, it sets the groundwork for negotiations and a formal purchase agreement later on. The LOI signifies a serious commitment to proceeding with the acquisition and acts as a roadmap for the upcoming, more detailed legal contract.
Key Elements of a Letter of Intent
An effective LOI should encompass the following details:
Parties Involved: Clearly specify the names and roles of the buyer and seller.
Purchase Price: Indicate the proposed price for the practice and the basis for this valuation.
Payment Terms: Highlight how and when the buyer plans to pay the purchase price.
Assets Included: Provide a list of all the assets included in the sale, like equipment, patient records, and goodwill.
Transition Period: Specify any transition assistance offered by the seller post-sale.
Proposed Timeline: Provide a timeline for due diligence, contract negotiation, and closing date.
Confidentiality Clause: Protect both parties' proprietary and confidential information.
Contingencies: Anything that is required to happen prior to the closing of the sale. Some common contingencies include (but are not limited to) the buyers right to conduct due diligence, buyer obtaining funding for the purchase price, buyer securing a lease, seller agreeing to a non-compete, and the parties negotiating and signing a definitive purchase and sale agreement.
Why Submit a Letter of Intent?
Submitting a Letter of Intent serves multiple purposes:
Eliminates Ambiguity: The LOI provides a clear overview of the deal, reducing chances of misunderstandings or disputes down the line.
Saves Time and Money: It helps parties avoid wasting resources on deals with little chance of reaching a final agreement.
Demonstrates Seriousness: The submission of an LOI is a significant step that demonstrates a buyer's commitment to acquiring the dental practice.
Tips for Crafting Your LOI
Here are some helpful hints to help you craft an effective LOI:
Seek Professional Advice: Consider seeking help from professionals such as lawyers familiar with the the dental letter of intent and business brokers experienced in dental practice transactions.
Focus on the Major Points: The LOI should address the significant aspects of the transaction, leaving minor details for the final purchase agreement.
Stay Flexible: Keep in mind that an LOI is not a final agreement. It should allow for negotiation and modification of terms as due diligence progresses.
The Letter of Intent within Practice Orbit
Practice Orbit takes all of the hassle out of submitting a letter of intent.
Find a practice you are interested in purchasing within The Orbit;
Sign an NDA to get additional information on the practice;
Answer a few questions and Practice Orbit will create a Letter of Intent;
Once you approve of the draft letter of intent, you will sign within the Practice Orbit system and submit to the Seller.
If the seller accepts your letter of intent, they will countersign to show their acceptance and the transaction process has officially begun.
In Conclusion
In essence, the Letter of Intent is a vital instrument that lays the groundwork for the acquisition of a dental practice. It acts as a map, guiding both parties to a shared understanding of the transaction's terms and serving as a blueprint for the formal, legally binding purchase agreement. Submitting an LOI is not just a formality, but a strategic step on your journey towards successful practice ownership. Approach this phase with careful consideration and professional assistance to ensure your path to acquisition is smooth and successful.
Remember, we're here to help you every step of the way. If you have any questions or need assistance in your acquisition journey, feel free to reach out to our team at Practice Orbit. Our goal is to help you navigate the process of dental practice acquisition with confidence and ease. We look forward to partnering with you on your journey towards practice ownership.